Windows Live™ Messenger 14.0.8064.206 Offline Full AIO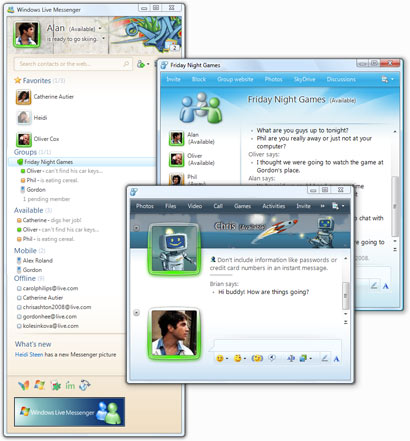 Software Windows | Rapidshare | Windows Live™ Messenger | 133 MB
System:
- Processor: 1 GHz or higher for Windows Vista; 800 MHz or higher for Windows XP
- Memory: 128 MB of RAM (256 MB or more recommended) for Windows XP; 512 MB for Windows Vista
- Resolution: Minimum 1024 x 768
- Internet connection: Internet functionality requires dial-up or broadband Internet access (provided separately). Local or long-distance charges may apply.
Programs you can download include:
- Messenger
- Mail
- Writer
- Photo Gallery
- Movie Maker beta
- Family Safety
- Toolbar
- Get Messenger and stay in touch:
Windows Live Messenger
makes it easier than ever to stay connected to the people you care about.
- Favorites and groups: Put the people you chat with most at the top of your contacts, so you easily see when they're online. Want to chat with several people in one window? Just set up a group.
-
Customize: Show off your personal style with custom scenes, animated display pictures, and signature sounds.
- Share photos: Look at photos together, right in the conversation window. And Messenger tells you when people you know post new photos on Windows Live.Mobile and web
- Using a public computer without Messenger? No problem! You can chat on the web from Windows Live Hotmail. Or, use Messenger on your mobile phone.
Windows Live products require the following:
- Operating system:

Windows XP with Service Pack 2 (32-bit edition only), Windows Vista (32-bit or 64-bit editions), Windows 7 Beta (32-bit or 64-bit editions), or Windows Server 2008.


Note:

Windows Live Movie Maker is not supported on Windows XP


- Browser:

Windows Live Toolbar requires Microsoft Internet Explorer 6 or later


- Graphics or video card:

Windows Live Movie Maker requires ATI Radeon 9500 (or higher) or nVidia GeForce FX 5900 (or higher).
Windows Live™ Messenger Official Site
:
http://www.msn.com
Download:
http://rapidshare.com/files/265412679/wlsetup-all_ONE.SOFTARCHIVE.NET.rar.001
http://rapidshare.com/files/265422421/wlsetup-all_ONE.SOFTARCHIVE.NET.rar.002
Use File Splitter & joiner To Join Them
http://rapidshare.com/files/205559808/FileSJ_by_militant_one.softarchive.net.rar